Stay cool with the World's most advanced electrode holder - the FIC High 'Q'
More than 2,500 operating successfully world-wide.
FIC has once again pushed the frontiers of glass industry technology to bring the industry the ultimate in cooling efficiency and trouble-free maintenance.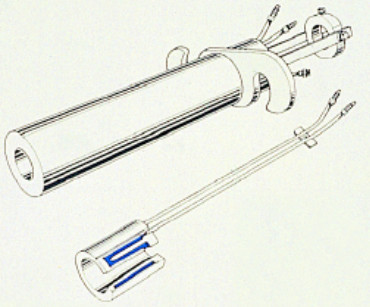 Benefits:
Unique cooling circuit
Replaceable in minutes by one person. Only 3 tools needed. No need to remove electrode and holder body. No specialist skills required.
No critical welds
Eliminates hazardous water leaks.
Increased cooling of the Electrode
Improved operation. Molybdenum electrode always safely sealed in position.
Air gap insulation
Air gap insulation between waterway and outer tube.
Avoids direct cooling
Avoids direct cooling and thermal shock to the refractories.
Blocking potential
Blocking potential greatly reduced.
Waterway cross section
Waterway cross section is much greater than traditional systems.
Safe and simple
Safe and simple holder and electrode adjustment.
Engineered for ease
Holder assembly engineered for ease of holder/electrode adjustment.
More information
Electrode advancements safely without stress to holder and water circuit
Advancements can be carried out without the need to interrupt the water supply simply by partially retracting the water circuit. Minimal thermal/physical stress to holder and waterway.
Tolerant of poor quality water supply
Suitable for Molybdenum Electrodes up to 100 mm diameter.
With its policy of continuous design improvements, FIC, in the High 'Q' Electrode Holder, has found solutions to the problems that have been intrinsic in the generic types most widely employed in the industry: periodic faults in the cooling system due to blockage or weld failure requiring in-campaign replacement; induced cracking of the electrode blocks due to 'direct' cooling of the holder wall and hence adjacent refractories, as well as failure of purge gas in those designs employing such a feature.
The High 'Q' Electrode Holder's replaceable waterway comprises a two-part male/female tapered assembly and has a special surface coating which inhibits oxidisation between the components.
A 'release' mechanism facilitates easy withdrawal of the assembly enabling the waterway to be replaced in five minutes or so without the need to resort to expert help. This avoids holder replacement with all the attendant risks.
The specially designed waterway is more than twice the cross sectional area of the old machined waterway design and substantially more than the coil-based assemblies whilst research has shown that an air gap between the cooling circuit and the outer wall is effective in avoiding direct cooling of the wall and as the insulating material in preventing thermal shock of the block.
Machined waterway types employ a critical weld at the nose of the holder through which cooling water can escape. Albeit Coil type waterways can avoid such a problem, they offer inferior cooling to the holder nose and electrodes. The High 'Q' with its weld-free design avoids any of these deficiencies.
The FIC holder minimises considerably the potential for blockage by enlarging the cooling circuit cross-section.
It incorporates a unique holder assembly which makes independent holder and electrode adjustment easy while advancements can be carried out without water supply interruption simply by partially retracting the water circuit.
FIC's Maxi 'Q' NoWeld
FIC can also provide: 'Splashcooled' electrode holders, the 'Machined Waterway' type holder, the Gas Purged holder, the Insulated Holder/Cooling Coil as well as special electrode holders for sidewall heating in distributors and forehearths.
Further Information:
Please contact us to receive more information, our latest presentation, or a quotation to purchase.