Peace of mind with the FIC Maxi 'Q' No-Weld Electrode Holder
The performance and maintenance of electrodes is crucial to the trouble-free operation and long life of all electric furnaces and boosters. It is thus vital that the associated holders are of the very highest campaign quality.
The FIC Maxi 'Q' No-Weld Electrode Holder's design is particularly forgiving and resilient with no critical weld inside of the furnace refractory blocks.
It is ideal for the more aggressive glasses.
A solid end-piece with specially designed waterways allows for a 55% increase in flow of water, thereby improving cooling efficiency.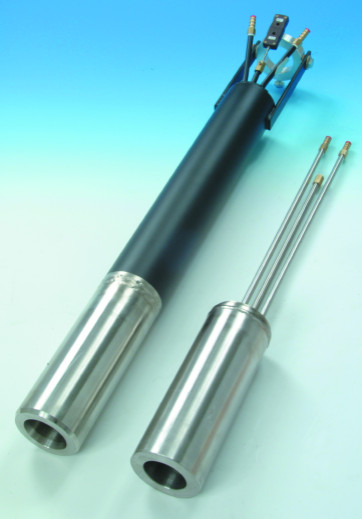 Benefits:
Safe
Weld is positioned outside glass contact refractory.
No possible leaks
In case of damage to the refractory wall, no possible leaks into the furnace.
Ideal for the more 'difficult' glasses
Ideal for the more 'difficult' glasses like Borosilicates, Opal Borosilicates, Soda-Lime Fluoride Opal and all types of fibre glasses.
Reliable
Constructed from high grade high temperature steel.
More information
The FIC Maxi 'Q' No-Weld Electrode Holder has no weld inside of the furnace refractory blocks with the result that there can be no leakage of water into the furnace itself in the event of inevitable wear to the furnace refractories.
Standard machined waterway holder types have, by design, a critical weld at the nose. Cooling water can thus escape through a failed weld caused by thermal shock as a result of injudicious start-up of the coolant supply.
Fixed coil type waterways avoid this hazard by replacing the machined waterway with a cooling coil. However, this type requires replacement of the holder in the event of a blocked cooling coil however.
FIC's Maxi 'Q' No-Weld Electrode Holder obviates the need for concern about any of these potential problems or reduced performance.
Although it is FIC's policy to advise on the very highest levels of maintenance, its safe bet Electrode Holder's natural resilience and durability makes it ideal for those manufacturers who are looking for a holder that is a little more forgiving than average.
The solid end-piece has specially designed waterways to increase waterflow by 55% over competitive holders. Increased waterflow is created with the introduction of new high technology machining of the solid end piece.
Ideal for the more 'difficult', 'aggressive' glasses, such as those suggested above, it is currently used by one of the world's leading producers of insulation products, melting a very aggressive glass.
FIC can produce a complete range of electrode holders as well as special electrodes for side-wall heating in distributors and forehearths such as those used in the FIC Iso-Thermal unit and the HVP Forehearth.
Our range includes the world's most advanced electrode holder, the High 'Q' with its replaceable waterway design
Other types supplied are 'splash-cooled' electrode holders the 'Machined Waterway' type holder; the Gas Purged holder and Insulated Holder/Cooling Coil if required.
FIC's reputation for being in the forefront of technology and its extensive range of both experience and expertise, puts it in a unique position to advise on both
holders and general furnace technology maintenance.
Further Information:
Please contact us to receive more information, our latest presentation, or a quotation to purchase.